Daniel Moshenberg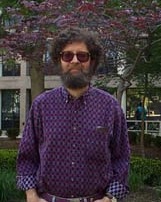 Daniel Moshenberg
Associate Professor of English
---
Contact:
Office Phone:
(202) 994-9086
837 22nd Street NW
Washington DC 20052
Associate Professor of English
---
I currently research women in and beyond the global household – prison –city, women's literacy and literary cultures in social movements, with a special focus on sub Saharan Africa.
Paul Virilio. The Lost Dimension. NY: Semiotext(e), 1991. Translator
Guest editor: Sexual and Gender Based Violence in Africa: ACAS Bulletin 83. Association of Concerned Africa Scholars. Fall 2009.
"Housing, Questions, and the Rule of Law". State of Nature, July 2007.
"Occupied territories: occupational health, and citizenship, in the Fifteenth Department, U.S.A.". Interventions: International Journal of Postcolonial Studies 8 (2), 319 – 332.
"Sweating Modernity: women workers in textual and textile industry". Rethinking Marxism 14, 4, 2002 (2004), 1 - 26
(P/L/C) 1: Pretext Prison Literacy Culture(s) Special Series (2005). Guest Editor..
"Of Empire in the absence(s) of colonialism". Voice of the Turtle, Symposium on Empire, September 2002.
Ph.D. in English and Comparative Literature, Columbia University, 1987.