2022 English Newsletter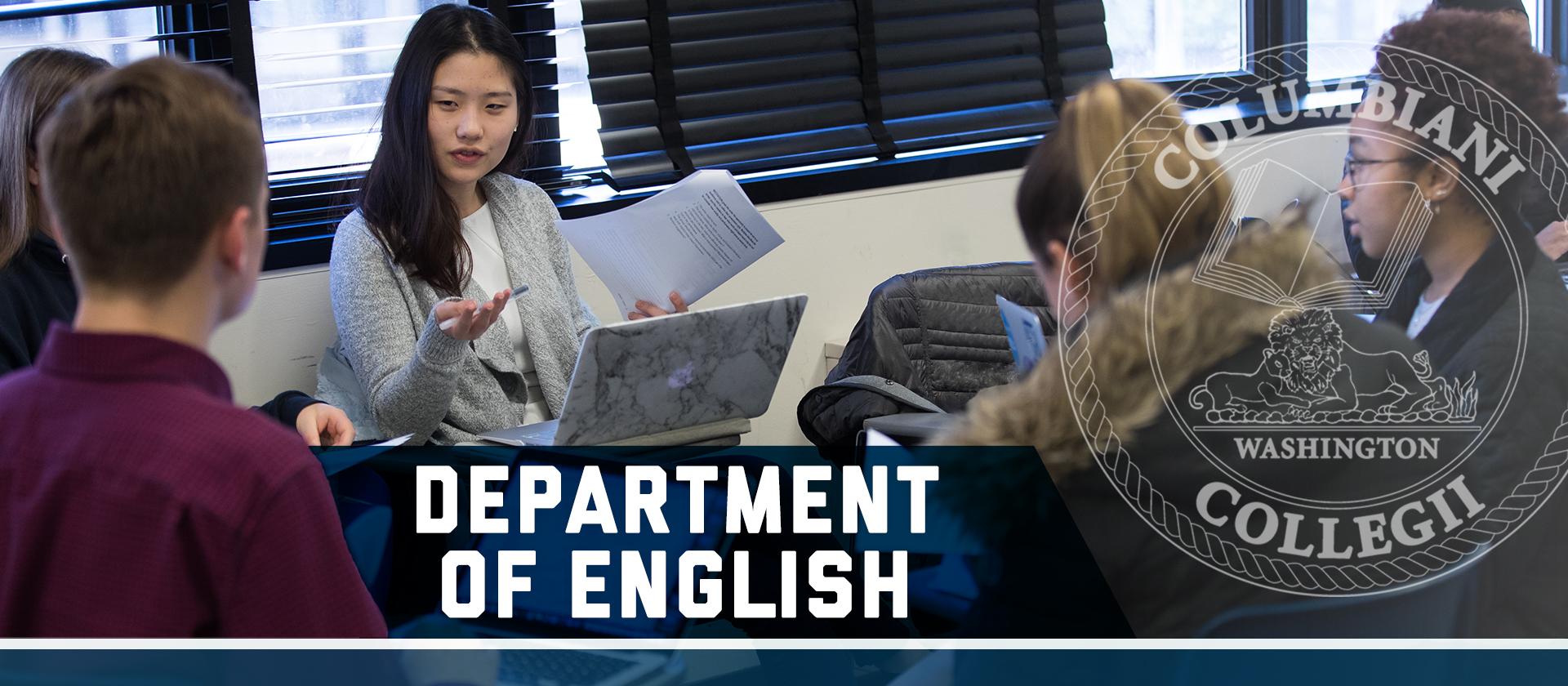 ---
Message from the Department Chair
Greetings English Alumni,
This year has been challenging, but also one full of hope and renewed energy. The pandemic continues, but we returned to our in-person classrooms with excitement and our students did not let us down! I continue to be proud of the many ways that English Department faculty have sought to support students and to cultivate a sense of community, while we are necessarily limited in how much indoor, in-person time together is safe. As always, the English faculty continue to publish scholarly articles, books and creative works at an impressive rate.
This spring also brings sadness as we mourn the passing of our beloved friend and colleague, the imitable Connie Kibler, BA '72, BA '86, long-time department administrator and GW alumna. We hosted a virtual event of remembrance with tributes from generations of GW English colleagues and students whose lives she impacted, and we have created the Connie Kibler Legacy Fund to honor the life and vitality she brought to the department. All contributions are appreciated.
As always, I encourage you to browse our website and stay connected to the department via our social media. Thanks to those of you who have made donations to the department. We are so grateful for your support. Please stay in touch as we love sharing stories of our alumni and their career paths with our students.
Sincerely,
Maria Frawley
Chair, Department of English
---
Department Spotlights 
In November 2021, Assistant Professor of English Jung Yun published the thrilling O Beautiful: A Novel. As the critically-acclaimed author of Shelter, Professor Yun gives an unflinching portrayal of a woman trying to come to terms with the ghosts of her past and the tortured realities of a deeply divided America. This novel presents an immersive portrait of a community rife with tensions and competing interests, and one woman's attempts to reconcile her anger with her love of a beautiful, but troubled land.
Antiracist Medievalisms: From "Yellow Peril" to Black Lives Matter
This past year, Associate Professor of English, Co-Director of the GW Digital Humanities Institute and founding Co-Director of Global Chaucers Jonathan Hsy proudly published Antiracist Medievalisms: From "Yellow Peril" to Black Lives Matter. In this book, Professor Hsy advances urgent academic and public conversations about race and appropriations of the medieval past in popular culture and the arts. Examining poetry, fiction, journalism and performances, Professor Hsy shows how cultural icons such as Frederick Douglass, Wong Chin Foo, Alice Dunbar-Nelson and Sui Sin Far reinvented medieval traditions to promote social change. The book explores how contemporary Asian, Black, Indigenous, Latinx and multiracial artists embrace diverse pasts to build better futures.
---
Alumni Class Notes
Elizabeth Block, BA '94, wrote Dressing Up: The Women Who Influenced French Fashion (MIT Press, 2021). She continues in her position as senior editor at The Metropolitan Museum of Art.
Myriah Cain, BA '96, has been teaching in Knoxville, Tenn., for 22 years after shifting from law school. She taught 6th grade ELA for 10 years and has been a 5th grade ELA and social studies teacher for the last 12 years.
Jordan Coggins, BA '15, leads global audience research and strategy for Apple's video streaming service, Apple TV+ in Los Angeles, Calif. Prior to working at Apple, she led global research initiatives for Amazon Prime Video.
Jeremy Fergusson, BA '68, enjoyed a short career as a journalist followed by a 50+ year career in the ad agency business.
Amit Goel, MA '05, has been an instructional designer at Purdue University Global for nearly 17 years. He lives in Washington, D.C., with his wife and his sweet little dog, Elmo.
Alissa Karl, BA '98, is vice president for academics of United University Professions, the labor union for faculty and professional staff at the State University of New York, and the largest higher education union in the United States.
Rosemary Kalonaros, BA '14, was named to the 2022 Forbes "30 Under 30" list.
Samuel Keyser, AA '54, BA '56, published two books in 2020: The Mental Life of Modernism and Turning Turtle: Memoir of a Man Who Would 'Never Walk Again.' He authored the article "Titian the Magician: Deflection at the Gardner" for the newsletter Berfrois.
Farisa Khalid, PhD '21, is a lecturer in the Department of English at Howard University, where he teaches courses on drama, literature and literary theory. He recently published essays on Pixar, science fiction and the novels of Iris Murdoch in books and journals.
Yahia Lababidi, BA '96, is based between Florida and Medellin, Colombia. In the age of COVID, he is giving more talks online to promote his new poetry collections Learning to Pray and Desert Songs.
Anna Sicari, BA '09, is currently an assistant professor in English and director of the Writing Center at Oklahoma State University. She also serves as co-editor of The Writing Center Journal.
Michael Slevin, LCSW-C, BA '97, co-edited with Dr. Beverly Stoute The Trauma of Racism:  Lessons from the Therapeutic Encounter, forthcoming from Routledge, fall 2022. In spring 2021, Michael also wrote the article "Psychoanalysis, Race and Class in an Urban ER," which was featured in The Psychoanalytic Study of the Child.
Amanda Temes, BA '16, lives New York City, working in advertising and recently started a new role at FreshDirect managing all digital media strategy for the brand.
---
Faculty Kudos
Edward P. Jones was featured by The Washington Post in the article, "18 books that capture the spirit and essence of living in D.C."
Jung Yun was featured in The New York Times article, "8 New Books We Recommend This Week," for her novel, O Beautiful.