Jennifer James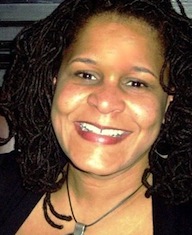 Jennifer James
Associate Professor of English
---
Contact:
Associate Professor of English
---
Professor James specializes in African American literature and culture, with a concentration in the 19th century. She has a particular interest in theorizing the relationships among literary praxis, representations of blackness and sociopolitical violence. This interest extends beyond the U.S., incorporating transnational and diasporic perspectives on slavery, war, and revolution in the 19th century Americas. She has also produced essays exploring the ways that the memory of slavery appears in 20th and 21st century African American social justice discourses, including anti-war pacifism, environmentalism and disability agency. Currently, Professor James is working on two projects, Black Jack: Andrew Jackson and African American Cultural Memory, which traces the history three generations of ancestors enslaved by the President, and a cultural history of a little-known labor riot staged by black American miners during the "nadir."  
A Freedom Bought with Blood: African American War Literature, the Civil War-World War II, the University of North Carolina Press, 2007. CHOICE Outstanding Academic title, 2008.
"'Buried in Guano': Race, Labor and Sustainability," American Literary History 24. 1 (2012):115-42. Special Issue: Sustainability in America
"Martin Luther King, Vietnam, and the Black Prophetic Tradition," in Writing War Across the Disciplines, eds. Stephan Jaeger, et. al. (University of Toronto Press, 2012): 165-184. Forthcoming.
"Ecomelancholia: Slavery, War, and Black Ecological Imaginings" in Environmental Criticism for the 21st Century, eds. Stephanie LeMenager, et. al. (Routledge University, 2011): 163-178.
"'On such legs are left me': Gwendolyn Brooks, WWII and the Politics of Rehabilitation," Feminist Disability Studies, ed., Kim Hall (Indiana University Press, 2011): 136-158.
Co-editor, and "Introduction," Special topic issue of MELUS, The Journal of The Multiethnic Literature Society of the U.S.: Race, Ethnicity, Disability and Literature 31.3 (Fall 2006).   
"'Civil' War Wounds: William Wells Brown, Violence and The Origins of African American War Fiction," The African American Review: 39.1-2(Summer/Fall 2004):39-54.
Ph.D., English, University of Maryland.
M.A., English, Syracuse.
A.B., English, The College of William and Mary in Virginia.