Margaret Soltan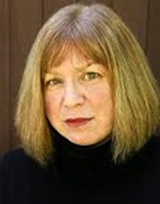 Margaret Soltan
Associate Professor of English
---
Contact:
Associate Professor of English
---
In 2012, Margaret Soltan was the first GW professor chosen to offer a MOOC (Massive Open Online Course). As part of the Faculty Project, she teaches a lecture series on poetry which currently has 10,600 students from around the world.
Margaret Soltan's blog, University Diaries, has been called "the gold standard" among contemporary academic blogs. Its large readership and broad range of subjects has given Soltan an increasingly high cultural profile, with television, radio, and print interviews on issues of interest not merely to academics, but to people around the world concerned about higher education. Soltan's popularity in the broader culture is also due to her second blog, University Diaries II, which appears in the online newspaper Inside Higher Education. Here she typically writes at greater length on general trends in higher education.
Teaching Beauty in DeLillo, Merrill, and Woolf (Palgrave Macmillan, 2007).
"After the Mourning," Washington Post, 2006.
"Loyalty to Reality in DeLillo's White Noise," in Approaches to Teaching White Noise, The Modern Language Association, 2006.
"The Faculty Bench," and "No Field, No Future," Inside Higher Education, 2006.
"Hoax Poetry in America," Angelaki, 5.1, Winter, Poets on the Verge issue, 2005.
"From Black Magic to White Noise: Malcolm Lowry and Don DeLillo," in A Darkness that Murmured: Essays on Malcolm Lowry and the Twentieth Century, University of Toronto Press, 2000.
Media
PBS News Hour
Chronicle of Higher Education
BBC Radio
London Times
Washington Post
New Zealand Listener
Irish National Radio
ITN News
Xinhua News Agency
Fox News
Washington City Paper
The New Republic
Related Links
My Blog
My Website
Ph.D., University of Chicago, 1984.